Miscellaneous Old SRC Photos
---
Photos from the Oakland Pop Festival, The Baldwin Pavilion of Meadow Brook (an outdoor
concert-venue which was previously used almost solely for summertime performances of the
Detroit Symphony Orchestra), which was on Labor Day weekend of 1968, approximately two
months before SRC's debut album was first available to the public.
Comments below photos by Steve Lyman

Gary with his black Les Paul, Robin Dale to the left facing backwards with his bass guitar,
Steve to the upper right with no guitar, all three with flowery shirts (likely taken in backstage dressing room).

Glenn Quackenbush in a flowery shirt facing the camera, with E.G. Clawson in the background
shirtless and facing to the left (likely taken in backstage dressing room)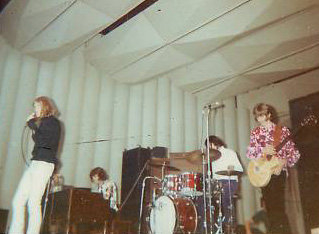 On-stage photo of SRC, large white baffles on the ceiling, (left-to-right) Scott Richardson with
black shirt & white slacks, Glenn in flowery shirt seated at Hammond B3, E.G. on drums in
white shirt, Robin on bass-guitar with dk-red & white flowery shirt plus black slacks (Gary
Quackenbush and Steve Lyman likewise present, but beyond the l&r frame of the photograph).
---
Photos said to be from "about 1969". Exact date(s) and place(s) are unknown.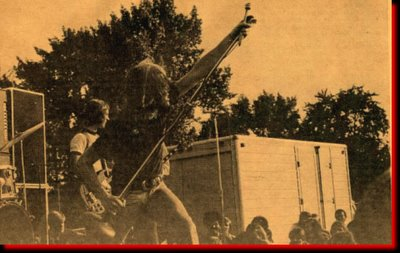 ---
If you have any definite information regarding any of the above photos, please Send an E-mail and let us know.
---